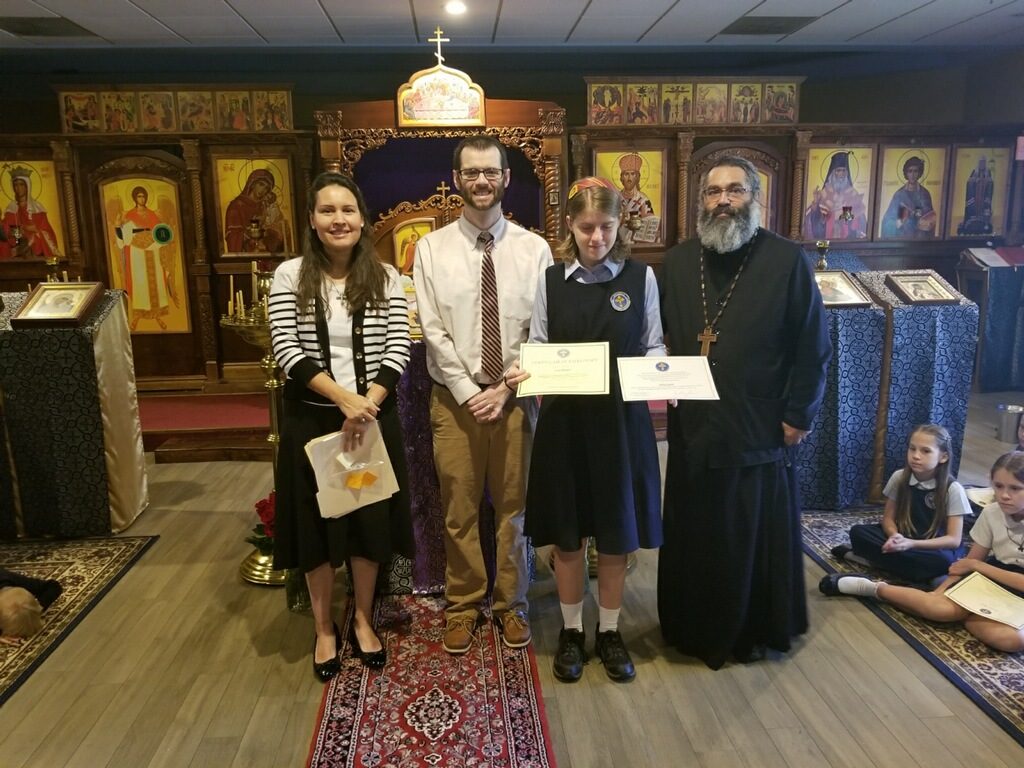 One student's CLT and SAT scores prove that high admissions test scores are not the only benefit to classical education.
March 2, 2019, was a Saturday much like any other for most South Florida teens. While many spent the day shopping or luxuriating on the beach, this day marked an important turning point for a select few classically educated teens; among them fifteen-year-old Iulia Keeley, a sophomore at Paideia Classical Academy (PCA) in Coconut Creek. This was the day of the Classic Learning Test (CLT) exam.
Taking the CLT exam is a red-letter day for a student of a classical school, with all of the same pregnant weight and future implications as the day most take their SAT exams. And yet, I was surprised to learn from Iulia herself that she had not been especially or singularly preoccupied with studying or preparing herself specifically for it. She attributes her National 98th percentile score of 107 to what she does "every day at school over the years" rather than to any "tricks" or test-taking strategies – something the majority of high schoolers consider a given necessity in order to "crack" the SAT or any standardized test. Iulia's results, as well as her autonomy and awareness of her daily responsibility to herself as a student speak volumes of the advantages that are made available to students in classical schools. This means that she has not had to "make up" for any lost time by cramming vocabulary or tweaking the test-taking format for optimal results. In her own words "tricks [for completing math problems quickly] are alright, but if you do not work according to a method then you are more liable to make a mistake because you do not really understand what you are doing". This applies as much to vocabulary and reading comprehension as it does to math formulas. Understanding a word because you periodically come across it in your reading, and feel comfortable and familiar enough to use it in your own writing is a more organic and significant way of learning than memorizing the meaning in hopes that the words you crammed will appear on your test, and that you can preserve your perfunctory recollection of their meaning long enough to fill in the right answer on your scantron.
You may be thinking that this philosophy and approach are fine and good for the CLT, and that it even may even prove as enriching and rewarding for others as it has done for Iulia, but that at the end of the day, the "almighty" SAT still holds sway in the destinies of most teens. Flaws and differences between the two tests notwithstanding, there may be somewhat right, depending on the college you are targeting. It is a good thing, in that case, that Iulia also scored 1320 when she took the SAT on March 9. Unlike the CLT, other tests used for college admissions ostensibly measure the skills and competence that a prospective applicant has been able to acquire and sharpen in math, reading and language throughout the entirety of their secondary education, and yet, in most cases a great deal of emphasis is placed on supplementary preparation catered to any or all of these particular tests. Why might that be? It is likely because students at typical schools lose a great deal of any given day either being overwhelmed by concepts beyond their grasp, bored by the repetition of tasks they have already more than mastered, or some combination of the two, depending on strengths and weaknesses. This is, of course, unavoidable when everyone in your class has the same assignments, receives the same instruction, and is graded in the same way, and with the same deadlines and expectations. On the other hand, Iulia has been working at her own pace and has consistently maintained an A average in every class while also completing lessons ahead of her own grade level since third grade.
With CLT and SAT scores like hers, coupled with her 4.3 GPA with honors in Math, English, Literature, and most other subjects, the sky is already the limit for Iulia as far as scholarships and admissions are concerned. Because her SAT score places her in the National 93rd percentile, her success in both formats makes her unusually well equipped to comment on the exams themselves. Iulia tends to favor the CLT, claiming that on the SAT she often would "come up with a different answer altogether" from any of the multiple choices, although this evidently did not stop her from answering correctly.  In her estimation, the CLT tends to include superior texts that are "older, thus time tested" with "good and proper" quality writing and content. "If I enjoy something," she reflected, "then I am going to want to learn about it". With such a love for her studies, it is no wonder, then, that she is electing, despite her accelerated placement, not to graduate early or get a "head start" on college. With only 3 credits still needed for a high school diploma going into her junior year, she could easily graduate after just one more year of high school or even less if she chose to. Instead, Iulia is looking forward to further expanding her knowledge and skills in the areas she is most passionate about in the upcoming two years. For her at least, education is much more than a simple means to an end.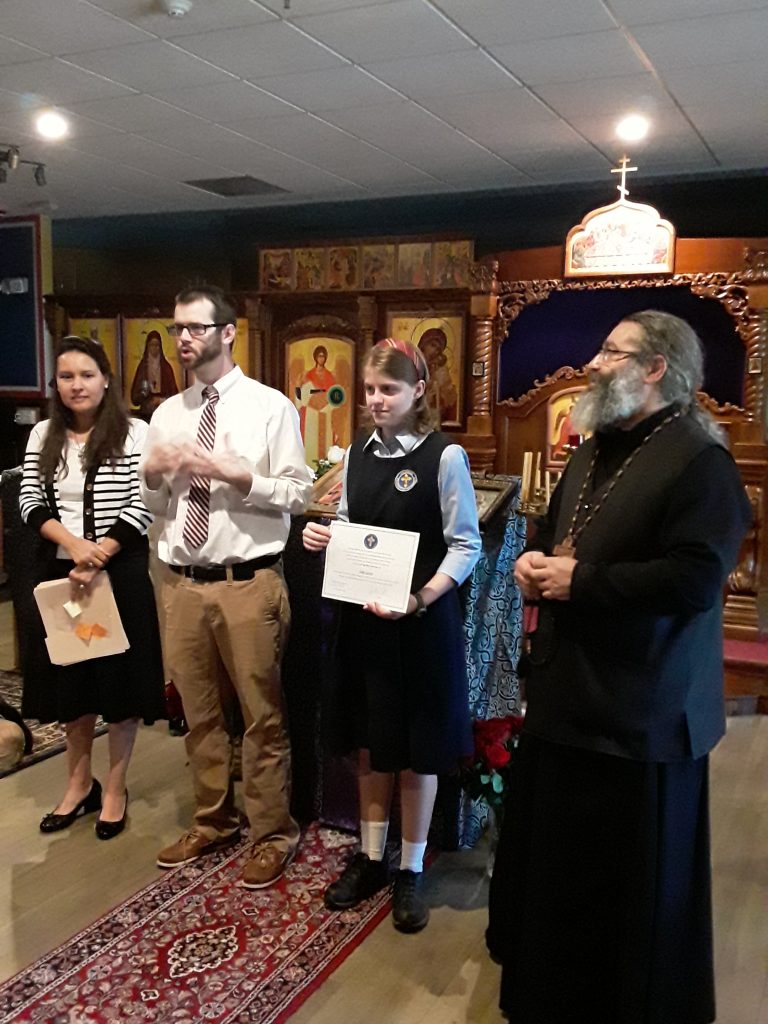 While students like Iulia are stand-outs to be sure, the positive and receptive attitude that she exudes for learning is not something exclusive to her, or even to accelerated or gifted students. Each phase of the classical trivium and every classroom at PCA are charged with optimism because the children who sit in their desks each day are permitted to soar and improve without meaningless repetition, even as they are permitted to stumble and retry without arbitrary castigation. The process – and the program as a whole – lends itself to making schoolwork something that students feel invested in, rather than something that they dread. The school motto is "Christ-centered, classical, organic, and green". The fact that "Christ-centered" comes before "classical" says a lot about the holistic focus on helping young people to prioritize what matters to them towards personal development into intelligent, capable, confident, and most importantly, good, wise people. The school principal, Dr. Paola Weber, places as much significance on the spiritual and moral as she does on the academic, and feels that "having been in a classical school since the third grade has allowed Iulia to blossom into the beautiful person she is today", and that "she does not only demonstrate excellence in academics, but is a defender of truth, beauty, and goodness."
The happy ending to the story of Iulia's schooling serves as a lesson in how positive an experience schooling might be if it were only done the correct way. When most people imagine the day to day minutia of schools and classrooms and look back at their own experience of them, there are probably at least a few memories of boredom, distraction, and disinterest associated with the process. It is important to recognize that these moments of less than optimal time spending are – cliché as it may sound – more the fault of the system than of the individual. It is only natural to get bored when you are not being challenged or engaged, just as it is only natural to be disinterested when more is expected of you than you can give. Students can only feel that their schoolwork is integrally theirs when they get the attention and help that they need when they struggle, just as they are allowed to accelerate and go beyond the limits of what their classmates are doing when they excel. This is why Iulia is sure to succeed in whatever ventures await her after high school. Whether she uses her high scores to cruise into an Ivy-league school as most would, or chooses a private Christian, conservative, classical college; her destiny is her own choice, as it should be.
Furthermore, she is prepared to make it with wisdom beyond her age, because she has become quite accustomed to draw on the vast repository of knowledge left us by the Greats, motivating herself and forging her own path, yet not unlike those who, before her, have sought the Truth. She has been doing that since third grade, and that is all thanks to classical education.
Ben Jackson
Teacher at Paideia Classical Academy